Get your event audio/visuals under control
Make your next event shine with an all-in-one AV service
Are you stressing over your event AV?
If you're a typical event coordinator, coordinating AV is guzzling up more time than it should be. You're having a hard time figuring out what audio/visual equipment and technicians you need for your event. How do you know you're thinking of everything?
You know you've got to get your audio/visuals RIGHT if you want to escape The Great Event Destroyer…Distractions! Screeching microphones. Slide presentations that aren't working. The keynote speaker's microphone isn't turn on…These kinds of distractions can destroy the most powerful event experience.
You shouldn't have to be an AV expert to coordinate a successful event.
Save time and lower stress with an all-in-one AV service
Save Time
We coordinate all of the AV details for you: Are the screens the big enough so the whole audience can see? Is the sound system adequate for your room size? We've got you covered.
Focus on Priorities
When you're not worried about AV, you can focus on other vital aspects of your event: coordinating content, speakers, staffing…the stuff you're good at!
Eliminate Distractions
Few things can interrupt a life-changing event faster than a dead microphone or a broken slide presentation. With an AV service that's on top of their game, distractions become a non-issue.
Change Lives
When your audio/visuals run smoothly, your attendees will be able to focus on what they came for: new ideas, fresh inspiration, rich experiences, a plan for what to do next – life change!
We get it. Coordinating events is a BIG job!
You're juggling speakers, content, event schedule, venue, staffing, audio/visuals…
Let's get audio/visuals off your stress-list. You have enough on your mind.
High-quality recordings delivered to event hosts
Years in the business of helping event coordinators win
1
Schedule
a Call
On the call, we'll talk over what you're wanting to do at your event and what kinds of audio/visuals you're looking for so that we can help you achieve your goals.
2
Get a Customized AV Plan
Before we give you a quote, we'll help you put together a customized AV plan for your event. This way, you get all your bases covered and don't waste money on equipment and AV techs that you don't need.
3
Enjoy a Low-Stress Event
It's the morning of your event. Your equipment is set up. Our AV techs are ready to respond to all your planned or unplanned event AV needs. Breathe a sigh of relief and go focus on making your event a success!
I have participated in many conferences over the years with Resounding Voice, and it has always been done with excellence. The team will do the job right at a reasonable cost. I highly recommend them.
Dr. Paul Jehle
Executive Director - The Plymouth Rock Foundation
The thing I appreciate most about Resounding Voice is their integrity. They do what they say. If anything is different than expected, they deal with it honestly and graciously. They anticipate your needs for you and help you solve problems before they happen. I've had to use numerous other AV companies before, and none of them compare to the service I receive from Resounding Voice. They get both thumbs up and 5 stars!
Chad Roach
Event Director - Generations
There have been occasions Resounding Voice has not been available during one of my events, and I am quickly reminded of why I prefer working with them… They are clean, polite, proficient, professional, and often "save the day" by solving problems outside the scope of work, and they handle last-minute additions with grace and urgency.
Kevin Turley
Board of Directors - Landmark Events
Your Service Options
Microphones - Wireless, Podium, and Handheld
Computer and Device Audio Connections
Soundboards/Sound Mixing
Speakers - Single Speakers to Large Venue Line Array Systems
PowerPoint
Screens
Projectors
Video Cameras
IMAG
Confidence Monitors
Stage Lighting
Stage Design & Setup
Audio Recording and Editing
Video Recording and Editing
PowerPoint/Screen-Grab Recording
Video Live Streaming
Recording Sales and Distribution
Save up to 75% on Recording and Live Stream

You can save up to 75% on recording and live streaming services when you add them to your event audio/visual service package.
Not sure what audio/visuals you need for your event? Don't sweat it. We'll help you figure it out.
Non-Profit Events
Corporate Events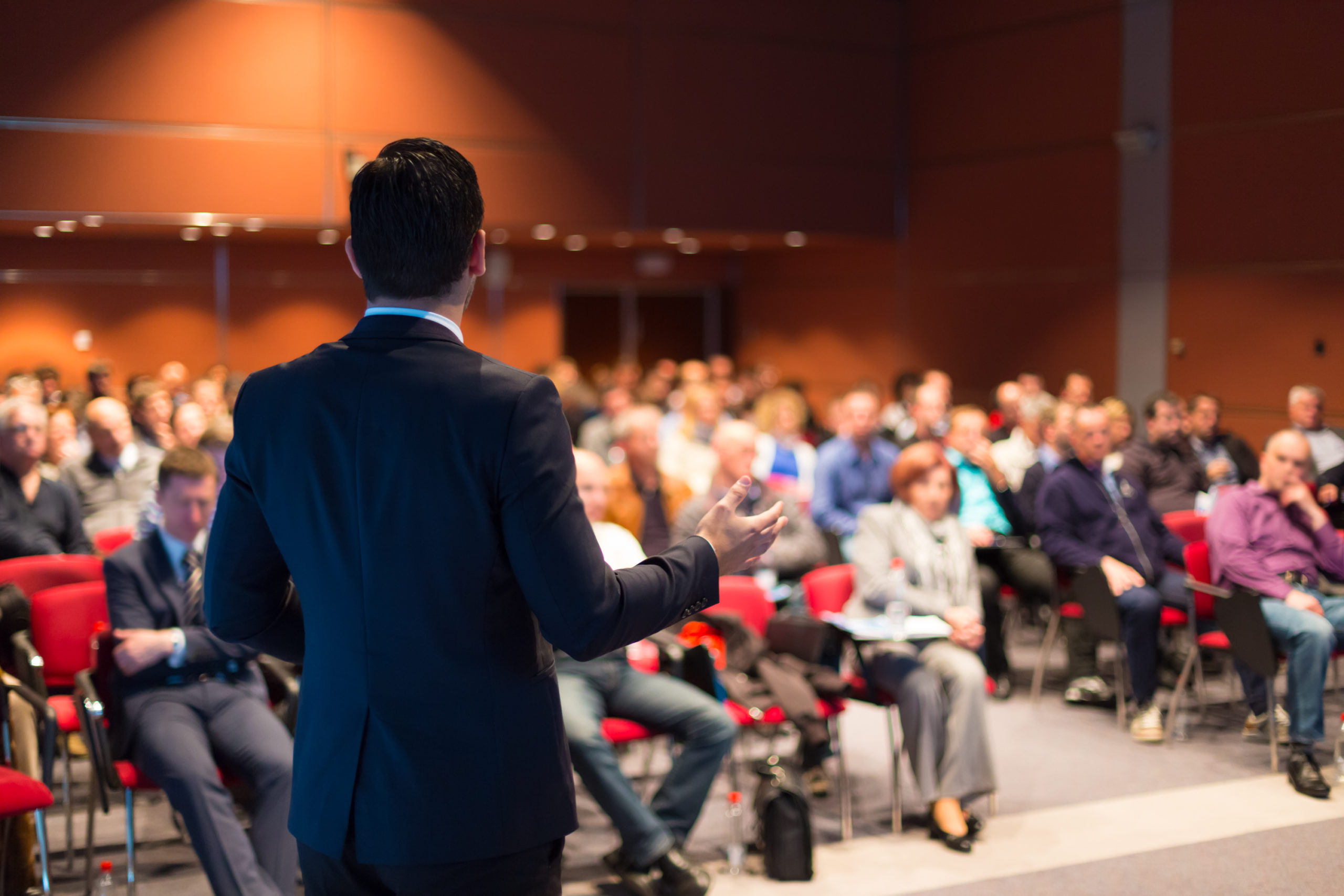 How event coordinators lower their stress with Resounding Voice

As an event coordinator, you want to be known for having everything under control at your events. That means you need seamless audio/visuals that will make your event shine. But if you're like many event coordinators, figuring out what audio/visual equipment and technicians you need is stressing you out.
Continue Reading...
You shouldn't have to become an AV expert to have a successful event. But you know that you've got to get this right or AV issues could ruin the experience you're trying to create for attendees.
As an all-in-one audio/visual service, Resounding Voice helps event coordinators to stop stressing over their audio/visuals so they can focus on creating a successful event. We understand how stressful coordinating audio/visuals can be. Back in the day, Resounding Voice owner Josh Erber helped coordinate events himself. That's why we've been helping event coordinators with their audio/visuals at over four hundred events during the past nineteen years.
Here's how it works:
Step 1: You schedule a call.
Step 2: You get a customized AV plan for your event.
Step 3: You enjoy a low-stress event knowing your AV is under control.
So, schedule a call. Let's work together to make your next event a success!
Questions you might be asking...
I feel dumb asking, but what are audio/visuals?
There are no dumb questions around here. Ask whatever you want. "Audio/visuals" (also known as "AV") include anything that has to do with event audio or visuals. Audio (what you hear) would include things like microphones, speakers, balancing multiple microphones through a soundboard, or connecting audio from a presenter's computer or device to the speaker system so they can share audio from videos. Visuals (what you see) could include everything from setting up screens and projectors for PowerPoint presentations, IMAG (the big screens up front where you can see a bigger version of the speaker as he's talking), stage lighting, or stage setup.
Does that help?
What is an all-in-one audio/visual service?
Often event coordinators end up working with multiple "tech" services during an event. One service handles the soundboard, screens, and microphones. Another service handles stage lighting. Yet another is recording audio and video. And maybe even a fourth service is live streaming video. Resounding Voice does all of it. That means you only have to work with one service. You save time, money, and a ton of extra effort trying to coordinate multiple tech services during an event.
How many rooms can you service at a time?
Our record so far is 50 sessions going at the same time. But if you want to try breaking our record...we're game!
Have you ever been at a larger event where they had the big screens up front that showed the video of the speaker as he was talking? That's IMAG.
Is there anything you don't include in your service packages?
Not so far. If you have something special in mind for your event, schedule a call and let's talk.
Can I make changes before the event?
You sure can! If at all possible, you should let us know of any changes you want to make by the week before your event. The sooner you can let us know, the better. But we get it. Last-minute changes happen. We'll work with you on it.
Do you have extra or increased fees if I make last-minute changes?
To be clear...no.
If you add equipment or services (let's say you add breakout session rooms that require more techs and equipment), we'll charge you at the same rate as the original services you contracted with us.
What locations do you service?
We service events anywhere in the lower 48 United States.
What is your turn around time on recordings?
Typically, we can deliver recordings onsite in as little as half an hour. But it depends on the scope of your event and what level of recording design you need. For example, if you want more finely designed video intros, we'll deliver those the week after your event.
If you still have unanswered questions, feel free to contact us below!
Focus on making your next event a success
Have questions or need more information on our audio/visual services? Send us a message and we'll get back with you!